Licking County Christian Academy (LCCA) is a private Christian school that provides a quality education for students in pre-kindergarten through the 12th grade. LCCA has been serving Christ in Licking County area since 1972.
A ministry of Newark Baptist Temple, LCCA seeks to develop lifelong learners through superior academics, a well-rounded curriculum and a focused emphasis on spiritual growth and Biblical training. Christian service ministries, competitive sports, a fine arts program and the ongoing development of technology are just some of the many opportunities LCCA offers. Enroll your child today and experience "Christ-Centered Educational Excellence!"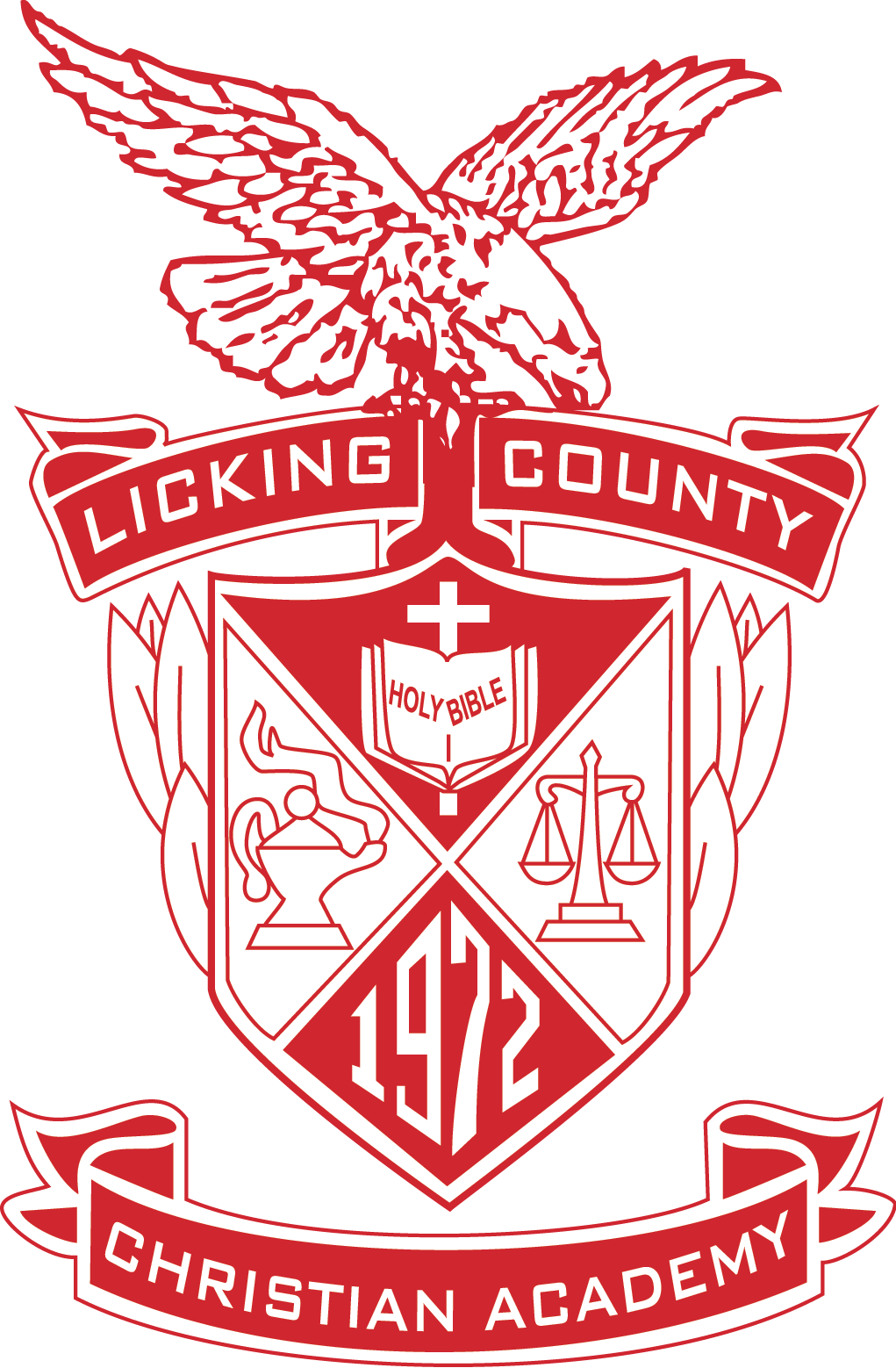 Mission Statement of Licking County Christian Academy
Licking County Christian Academy is dedicated to assisting parents in their God-given responsibility of educating their children by providing a high-quality, spirited academic program while encouraging children to live obedient, Christ-centered lives.
The mission of LCCA is one of preparing children to live a productive life for the Lord Jesus Christ.  While most graduates of LCCA will choose to continue their education beyond high school, the focus of the curricular and instructional systems will be one of helping each child to grow, both spiritually and academically.  Admissions policies will reflect what the school is able to do for those children admitted.  Attention will be given in the following three areas: 
Our Foundation
In contrast to humanistic, progressive philosophies of education, our educational philosophy rests upon two presuppositions.  God is (Hebrews 11:6), and God has revealed Himself in Creation (Psalm 19:1-3), Christ (Hebrews 1:1-3), and the Canon of Scripture (John 5:39). Since God holds His creation accountable to His Word (John 12:48), we study our world in light of the truths revealed in the Bible.
LCCA acknowledges that God entrusts children and the oversight of their education primarily to parents.  Parents are obligated by the Scriptures to procure an education for their children that is based upon biblical values (Deuteronomy 6:7-8, Proverbs 22:6, Ephesians 6:4, 2 Timothy 3:15).
Our Vision
We endeavor to partner with like-minded parents who seek an affordable education for their children (4 years old through the 12thgrade) in a safe and nurturing environment that is conducive to the development of high academic achievement and strong Christian character.   We will utilize pre-recorded video instruction and live-taught classes.  As enrollment justifies the addition of new staff members, we will gradually transition to fewer video classes and more live-taught classes.  We will provide a loving faculty and staff qualified to supervise, instruct, and coach.
Statement of Faith of Newark Baptist Temple
Believing the Bible to be the inspired, infallible Word of God and the final source of authority in matters of faith, principle and practice (II Timothy 3:16, 17), we abide by the following statements of faith:
Section I. Holy Scriptures
We believe in the Scriptures of the Old and New Testaments (66 books) as verbally inspired of God, inerrant in the originalwritings, and of supreme and final authority in faith and life (II Timothy 3:16, 17; II Peter 1:20,21; John 10:35; Matthew 5:18).
Section II. HolyTrinity
We believe in one Triune God, eternally existing in three persons – Father, Son and Holy Spirit –co-eternal in being, co-identical in nature, and co-equal in power and glory, all having the same attributes (Genesis 1:1,26; 11:7; Deuteronomy 6:4; Isaiah 6:8; Matthew 28:19,20; John 17:1-5; Acts 5:3,4; II Corinthians 13:14; Hebrews 1:8; I Corinthians 8:6; IJohn 5:7; Isaiah 45:22).
Section III: Jesus Christ
We believe that Jesus Christ, the Eternal Word, is the only begotten Son of God who, retaining His divine nature, became a man. He lived a sinless life so that He might be the perfect Redeemer for mankind. We believe that He was conceived by the Holy Spirit, born of the Virgin Mary, and is the true God-Man.  We believe that Jesus Christ is at the right hand of the Father as the believer's advocate, intercessor and mediator (John 1:1, 14; 3:16; Galatians 4:4; II Corinthians5:21; Matthew 1; Luke 2; Philippians 2; I Peter 1:19; 2:24; 3:18; I Corinthians 15:4; Acts 1:11; I John 2:1).
Section IV: HolySpirit
We believe that the Holy Spirit is a divine person, the third Person of the blessed Trinity, co-equal with the Father and the Son. Relative to the world, the Holy Spirit restrains sin, convicts of sin and reproves of righteousness and judgment (II Thessalonians 2:6, 7;
John 16:8-11).  Relative to the believer, He regenerates, fills (I Corinthians 6:19,20), seals (Ephesians 1:13,14), guides and illuminates (John 14:26), quickens (Romans 8:11), and sanctifies (Titus 3:5,6).
Section V: Salvation
We believe that man is saved by the grace of God through faith in the sacrificial death and blood atonement of Jesus Christ. He died for our sins, according to the Scriptures, as a representative and substitutionary sacrifice. All who believe in Christ as the Son of God, receive Him as Savior, and confess Him as Lord are justified on the basis of His shed blood (John 1:12; Romans 3:25; 10:9-11; I Corinthians 15:3,4; Ephesians 1:7; 2:8, 9; I Peter 1:18, 19; 2:24).

We believe that all the redeemed, once saved, are kept by God's power and are thus secure      in Christ forever. It is the privilege of believers to rejoice in the assurance of their salvation through the testimony of God's Word. The Scriptures clearly forbid the use of the Christian liberty as an occasion to the flesh (John 3:16; 5:24; 6:37-40; 10:27-30; Romans 8:1, 38, 39; 13:13,14; I Corinthians 1:4-8; Galatians 5:13; Ephesians 4:30; Philippians 1:6; II Timothy 1:12; Titus 2:11-14).
Students are accepted on the basis of available space, their character, and scholastic record; without regard to race, color, national or ethnic origin; and a genuine desire on the part of the parents to have their child in a Christian school. Only those children whom we feel will adjust to our particular program, and whose parents agree to cooperate fully with the teachers and administration, will be admitted.
Step One:  Get to know us.
Call to schedule a visit to our school, meet faculty and staff, and observe classroom instruction. (740-522-3600)
Step Two:  Participate in a Family Interview with the Administrator
The interview allows us to get to know one another more personally and offers you an opportunity to ask any remaining questions and tour the school.
Step Three:  Make Application.
Application requirements include Previous School Records, Standardized Test Scores, and take a LCCA Academic Placement test ($25)

Step Four:  Online Application and pay the registration fee
Registration fee is done online when your application form is completed. Click here to start application process: RenWeb
Step Five:  Sign up for FACTS through Online Application
Admission Age for Kindergarten
K-4 students must be four (4) years old by September 1.
K-5 students must be five (5) years old by September 1.
Through the admissions process, we want to share with you our mission, vision, and philosophy of education.  We also want to answer your questions and help you evaluate whether Licking County Christian Academy is the best choice for your child.  The Admissions Office works closely with parents and students as we assist you from initial inquiry through enrollment.
For over thirty years, Licking County Christian Academy has served area families by providing a quality Christian education.  Through the years, scores of young people have graduated from the School with a strong Biblical and academic foundation, equipped to pursue God's will for their lives.
Even as the cost of education has escalated, LCCA has continued to keep the possibility of a private, Christian education a reality for many families.  The deficit between costs incurred yearly and the income received from tuition is covered entirely by the Newark Baptist Temple and gifts from individuals like you.
LCCA does not seek government funding or accept it.

The Eagle Fund is a ministry of encouragement for those who believe strongly in Christian education.  Would you be willing to become prayerfully and financially involved on a regular basis? You may choose to make a one-time gift or a weekly contribution. All gifts are tax deductible.
We trust that you will pray for us faithfully as we continue to serve the Lord and families through Christian education.
All donations may be mailed to:
Licking County Christian Academy
81 Licking View Drive
Heath, Ohio 43056

Or donations may be made online by clicking on the Donation Button located to the right.